Essential Oils
Soft Extracts
Spices Oleoresins
SUPER CRITICAL FLUID EXTRACT - Ginger oil
Ginger Products Available :
We offer ginger CO2 extract and oleoresin. The oil and oleoresin obtained from super critical fluid extraction of Zingiber officinale. Solvent free pesticide-tested and certified organic high-grade quality. Used in health products for its anti-inflammatory and antioxidative properties (alleviates also nausea and digestion disorders) and food products whenever high pungency is required.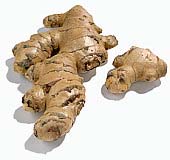 Ginger Essential oil
Overview :
Ginger, the underground stem (rhizome) of the plant Zingiber officinale has been used by Indian, Arabic and Asian herbalists in medicines since centuries. In India, China and tibet ginger has been used to aid digestion, stomach upsets, diarrhea and nausea for thousand of years. Ginger is used to treat arthritis and heart conditions. Besides the medicinal uses, ginger is an important cooking spice all over the world and is believed to cure headaches, common cold and in painful menstrual periods.
Ginger root is widely used as a digestive aid for mild stomach upsets and is normally recommended by herbalists to aid in vomiting induced by travel.
Is it safe?
Ginger has been used for at least 2500 years in China, India and Tibet as an anti-inflammatory for arthritic pain apparently without cause for concern. The US Food and Drug Administration lists ginger as 'generally regarded as safe'.
There have been warnings about a possible effect of ginger and people using anticoagulants as blood-thinning medications and people at risk of bleeding should use ginger products only after consultation with their doctor.