Essential Oils
Soft Extracts
Spices Oleoresins
SUPER CRITICAL FLUID EXTRACT - Fennel oil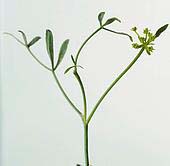 Botanical Name: Foeniculum vulgare amara

Plant Part: Seeds

Extraction Method: Supercritical Fluid Extraction Process (SCFE) also called Co2 Extraction process.

Description: Fennel (Foeniculum vulgare) is from the parsley family (Apiaceae or Umbelliferae) and the oil comes from Australia and Spain today. It grows to 4.5 feet and has yellow flowers. Fennel oil is extracted from dry seeds. This is an herb with a long medical reputation believed to convey longevity, courage and strength. Fennel seeds are used as a digestive aid and balances menstrual cycles, strengthen eyesight and neutralize poisons.

Colour: Clear to Pale Yellow.

Common Uses: Fennel is an antiseptic, antispasmodic, carminative, depurative, diuretic, expectorant, laxative, stimulant, digestive and may be used for cellulite and obesity. It is also believed to be invigorating, restoring, stimulating and warming.

Consistency: Light

Note: Top

Strength of Aroma: Medium

Aromatic Scent: Fennel Sweet has a spicy, sweet, woody scent.

Cautions: It may cause skin irritation. Dilute well before use. Avoid use in sun and if pregnant.