Essential Oils
Soft Extracts
Spices Oleoresins
SUPER CRITICAL FLUID EXTRACT - Cumin oil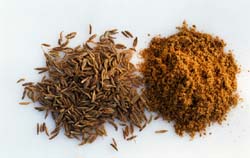 Botanical Name: Cuminum cyminum

Plant Part: Seeds

Extraction Method: Supercritical Fluid Extraction Process (SCFE) also called Co2 Extraction process.

Description: Cumin (Cuminum cyminum) is in the parsley family of essential oils. The oil is obtained through co2 extraction. Cumin is a small, delicate, annual herb more like a ground cover. It grows about 20 inches high and has slender stems, dark green feathery leaves and small pink or white flowers followed by small seeds.

Color: Clear to pale yellow

Cumin oil extracts are used for medicinal purposes and food flavouring. The properties include use as an antiseptic, anti toxic, anti-oxidant, antispasmodic, aphrodisiac, digestive, bactericidal, larvicidal, emmenagouge, diuretic in nature, a nervine and as a stimulant. Cumin essential oil is used as a warming oil to relieve muscular pains and in osteoarthritis. For the digestive system it is a stimulant that helps with colic, dyspepsia, flatulence, bloating and indigestion. Essential oil of Cumin is known to have a beneficial effect on migraine, headaches, and exhaustion. Cumin essential oil has anti-inflammatory property. It is an antiviral; aids digestion protects liver and stimulates immune system.

Consistency: Light to Medium

Note: Middle

Strength of Aroma: Medium

Cumin Oil mixes well with: Lavender, Rosemary, Chamomile, Angelica, Caraway, and other essential oils.

Precaution: Cumin has phototoxic properties and after application direct sunlight should be avoided. Also pregnant women and people with sensitive skin should avoid it.

Background: This is a traditional Middle Eastern spice used in making curries. It is vastly used in Ayurvedic medicines, as a stimulant and for digestive complaints like indigestion.