Essential Oils
Soft Extracts
Spices Oleoresins
SUPER CRITICAL FLUID EXTRACT - Cardamom Oil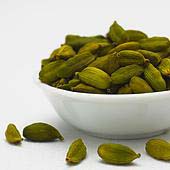 Botanical Name: Elettaria cardamomum
Plant Part: Seeds
Extraction Method: SCFE
Origin: India
Description: Cardamom grows wild and is cultivated in India and Sri Lanka. It grows about 4 meters and has small yellow flowers, with a violet tip. Gray fruits follow the flowers containing many seeds.
Color: Pale yellow
Common Uses: Cardamom is known to be good for digestion working as a laxative it soothes colic, wind, dyspepsia and nausea, even when caused by pregnancy. It can be used as massage oil or diluted in the bath; Cardamom oil also aids digestion, coughs and can be used as a general tonic. It is vastly used in food ingredients and aromatherapy.
Consistency: Light
Strength of Aroma: Strong
Blends well with: Orange, Rose, Bergamot, Cinnamon, Cloves, Caraway and Cedar wood.
Aromatic Scent: Cardamom essential oil is spicy and sweet in fragrance.
History: Cardamom has been used since ancient times. Egyptians used it in incense, perfumes and for whitening teeth. The Romans used it for digestion after over-indulging in food. Arabs grounded it and mixed with their coffee and it has always been an important food ingredient in Asian cooking.